3-night Pacific Coastal Cruise
Cruise Line:
Princess Cruises®
Ship:
Grand Princess®
Destination:
San Francisco/Vancouver
Departure Date:
4/27/2024
Length:
3
Offer ID:
1468653
The Signature Collection – Exclusive Amenities
The Signature Collection Sailings offer Exceptional Value and Exclusive Amenities.
$25 per Couple Shipboard Credit*
*Amenities may not be combinable with all fares shown. Additional restrictions may apply.
Book Princess PLUS Fares for Drinks Package, Wi-Fi, Crew Tips, Fitness Classes, Premium Desserts, and More!

Please contact your travel advisor for more information.*
*Promotion is subject to availability, may not be combinable with certain fares or other amenity offers, is capacity controlled and may be withdrawn at any time. Other restrictions apply.
Book PREMIER Fares for Premier Drinks Package, Wi-Fi, Specialty Dining, Crew Tips, Photo Package, Desserts, Fitness Classes, and Reserved Theater Seating!

Please contact your travel advisor for more information.*
*Promotion is subject to availability, may not be combinable with certain fares or other amenity offers, is capacity controlled and may be withdrawn at any time. Other restrictions apply.
READY TO PLAN YOUR SHORE EXCURSIONS?
To view our top picks, please click here.
Itinerary
Destination
Arrival
Departure
San Francisco
4/27/2024
4/27/2024 4:00:00 PM
Blessed with a viable fog-cooled and sun-kissed climate and a dramatic landscape, the San Francisco Bay Area is a visual feast where neither water nor hills are ever too far away. Add to this the cultural medley: Within every neighborhood, from Santa Cruz to Oakland to Mill Valley, a diversity of tastes and interest is thriving. See it in the cuisine, the bookstores, the arts, and the recreational opportunities. To embrace all San Francisco has to offer get out and explore. Walk the streets, drive across the Bay Bridge, go south down the peninsula to Silicon Valley and cruise along the San Mateo coast. Find great sights, museums, art, culture, and family fun attractions. There is a plethora of attractions and activities to satisfy the desires of every one who visits.
Victoria, B.C.
4/29/2024 12:00:00 PM
4/29/2024 11:59:00 PM
British culture and island informality collide in Victoria. This sophisticated seaside city is full of historic sites, parks and gardens. Take a walking tour - many of which begin at Parliament Buildings at Victoria's Inner Harbor. Combined with majestic Empress Hotel, these monumental buildings give the city a regal European feel. See equally impressive modern structures, such as Royal British Columbia History Museum, or replicas of large, native Northwest Indian houses at Thunderbird Park. Unique attractions include Undersea Gardens, Miniature World, Maritime Museum, Chinatown and Royal London Wax Museum. A memorable places to visit is world-famous Butchart Gardens, with 5,000 fauna varieties. The dazzling gardens on Saanich Inlet are beautiful at night, when hundreds of lights sparkle along winding paths. Additional gardens in Victoria include Crystal Garden and the gardens surrounding Government House and near Craigdarroch Castle, a towering Victorian mansion complete with a tower and turrets. Tour this city in a horse-drawn carriage.
Vancouver
4/30/2024 7:30:00 AM
4/30/2024
Vancouver is a thriving metropolis surrounded by natural beauty. With parks, beaches, gardens, museums, art galleries and the second-largest Chinatown in North America, Vancouver lives up to its promise of offering something for everyone. With modern buildings set against green, rolling hillsides, this city is breathtaking; no location offers a more spectacular view than Stanley Park - with a zoo, aquarium, totem poles and honking geese. A short walk from the park leads to Robson Street, which offers the town's best window-shopping. Stores with European flavor share the avenue with delicatessens and tea rooms ready to serve. As architectural heart of the city, Robson Square features a central plaza with a food fair and an old provincial courthouse, which now houses Vancouver Art Gallery. Be sure to stop at 8 Pender St. - "the narrowest building in the world." Other points of interest include the Museum of Anthropology; Japanese-style Nitobe Memorial Garden; and VanDusen Botanical Garden. Capilano Canyon is site of the world's longest and highest suspension footbridge.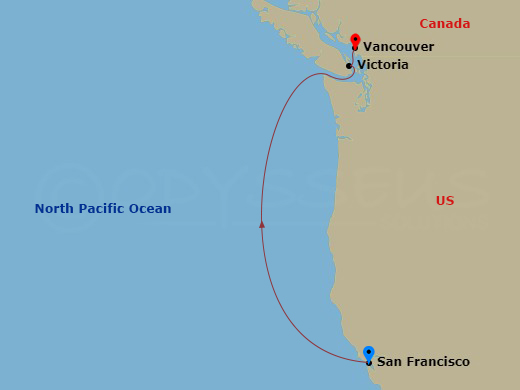 Rates are cruise only, per person, based on double occupancy. Taxes, Fees and Port Expenses of $159.73, transfers, and airfare (unless otherwise stated) additional for all guests. Rates are subject to availability and may change without notice. Restrictions may apply.
Departure Date:
4/27/2024
Cruise Inclusions:
3-night Cruise
Meals
Entertainment
Available Addons:
Pre or post cruise hotel stay.
Optional roundtrip airfare.
Optional shore excursions.
Offer ID:
1468653

Reference this number when contacting our agency so we may better serve you. Also keeping this number handy will allow you to locate this document again quickly.
Information and pricing is subject to change without notice. While we do our very best to ensure that information and pricing appearing in this website is complete and accurate, we cannot be responsible for incomplete and inaccurate representations, which may or may not be under our control. In the event of a pricing error, misrepresentation or omission, we reserve the right to adjust the pricing or make any other corrections.
Company Info
CruiseCenter
4801 Woodway Suite 145-West
Houston, TX 77056

800-825-5793

2071690-50